24 Luxury Apartments
EXPERIENCE INFINITE LUXURY LIVING BETWEEN GOLF AND SEA
Infinity, a gated community. An exclusive residential of 24 luxury apartments and independent penthouses between golf and sea. Mirador del Paraíso is a gated community with a unique access entrance and 24 hours security, located in an idyllic place surrounded by nature's gifts.
Master Plans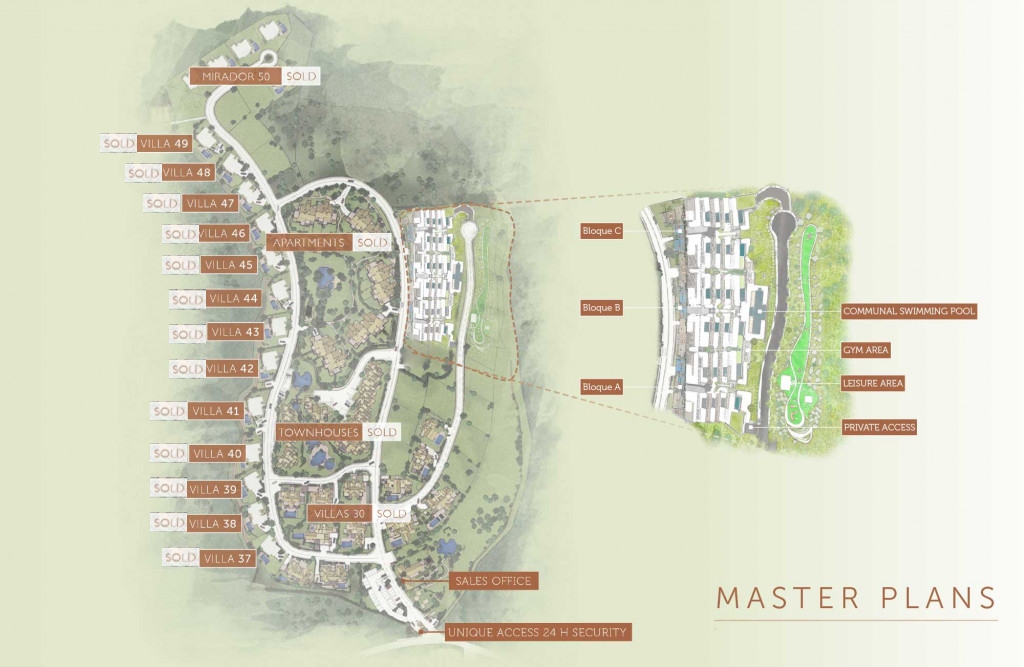 SQUARE METERS OF PRIVATE RUNNING 5.000
PRIVATE TERRACES 85/100m
ELECTRIC CHARGER CARS YES
PRIVATE SWIMMING POOL IN APARTMENT YES
COMMUNAL POOL 25m
HOME AUTOMATION IN TOUCH SYSTEM YES
PARKING YES
WOODEN KITCHENS YES
LARGE STORAGE ROOMS YES
PENTHOUSES WITH PRIVATE ACCESS YES
24 HOURS SECURITY YES
GYM YES
YOUR INVESTMENT
Why you should choose a residence in INFINITY
EXCELLENT LOCATION
Infinity is located in one of the most sought-after residential areas on the Costa del Sol between the fashionable Marbella and Estepona, the garden of Andalusia. From here you can reach all hotspots within a short time.
BEACHFRONT
Residences directly by the sea have become rare due to the high level of new developments on the coveted Gold Coast. Infinity offers direct access to the beach and a high degree of privacy.
EXCLUSIVE LIFESTYLE
Infinity was created to meet the demands of a home that combines stylish design with the highest quality materials and the latest technologies.
ANDALUSIA´S SUN
Far away from hectic tourist centres, residents enjoy their private paradise in a sunny and mild climate all year round and can golf, hike or walk on the beach almost all year round.